Ox Capital's secret to beating the market over the past 12 months: Never pay up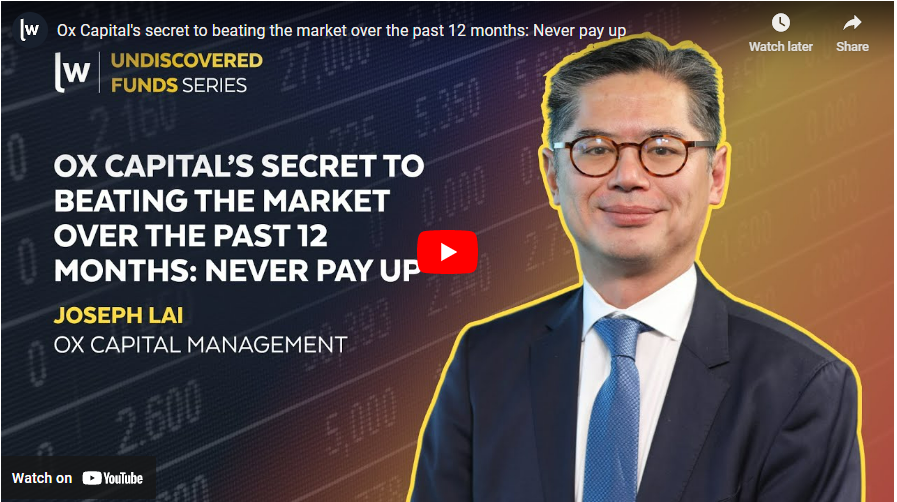 View the original port including transcript on Livewire.
Emerging market equities have had a very volatile last decade - but don't let that throw you off, argues Dr Joseph Lai of Ox Capital.
When it comes to high risk, big payoff investing avenues, few are more interesting and varied than emerging market assets.
Before October 2022, institutional investors from around the world were fleeing emerging market assets on a scale not seen since the 1980s. Elongated lockdowns, long-simmering geopolitical tensions, and the relentless strength of the US Dollar all contributed to a tough year for these assets.
Yet despite the backdrop, one fund did avoid the downturn. It beat its benchmark index (and a lot of the competition) by more than 6% last year. And its portfolio manager says there is more where that came from.

As part of the Livewire Undiscovered Series, I sat down recently with Dr Joseph Lai, CIO and Portfolio Manager for the Ox Capital Dynamic Emerging Markets Fund.
Lai is most famous for his 13-year stint as the Portfolio Manager for the Platinum Asia Fund and Head of its Asian Equities Research team. In September 2021, Lai launched Ox Capital - a funds management house aiming to take advantage of the historic valuation disparity in emerging market equities.
About the Fund
Name: Ox Capital Dynamic Emerging Markets Fund
Asset Class: Emerging market equities
Year listed and size: September 2021, $34.4 million
Description of strategy: A concentrated portfolio of high quality, undervalued, well-run companies in emerging markets. The fund typically holds 30-50 stocks that are diversified across countries, sectors and thematic exposure.
Investment objective: To provide an absolute return and capital growth over the long term and outperform its benchmark after costs over rolling five year periods.
Produced by Livewire Markets and published on 4 May 2023.