Proterra Asia invests in ecoSPIRITS Series A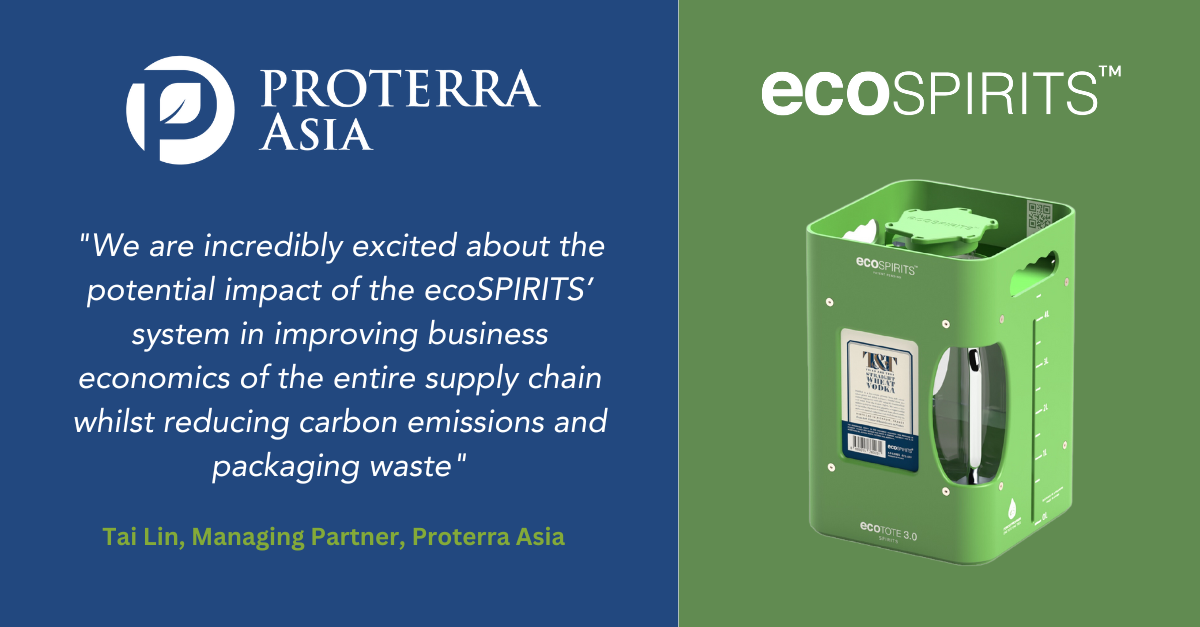 SINGAPORE, 10 May 2023 – Proterra Asia, the private equity fund manager focused on investing in the Asian food sector, is pleased to announce its investment in ecoSPIRITS, a circular economy technology company, which has raised USD 10 million in an oversubscribed Series A funding round.
The Series A round was led by Closed Loop Partners, a New York-based circular economy investment fund. Proterra Asia was one of four other participants in the funding round, alongside: Singapore-based growth stage investor Pavilion Capital; Convivialité Ventures, the venture arm of global wine and spirits leader, Pernod Ricard; and ecoSPIRITS' existing venture capital investor, Wavemaker Partners. The new investors provide expertise in the circular economy, sustainability, the food sector and wine and spirits to the ecoSPIRITS journey.
ecoSPIRITS has developed the world's first low carbon, low waste distribution technology for premium spirits and wine. The Series A proceeds will be used to strengthen ecoSPIRITS's leadership position in closed loop packaging technologies for spirits and wine and accelerate its research and development program according to ecoSPIRITSs. The new funding will also help ecoSPIRITS scale up its hardware, software, and Internet-of-Things (IoT) research and development program, expanding its investment in its Intelligent CircularTM roadmap. The funding will further be used to expand operations in key markets worldwide, including the United States, and grow its regional customer and engineering teams in Miami, London, Singapore, and Shanghai. At the time of funding, ecoSPIRITS' closed loop technology platform is active in 25 countries worldwide, including the majority of the world's largest economies.
Proterra Asia is a private equity fund manager focused on investing in the Asian food sector. Over the past decade Proterra Asia has invested more than USD 1 billion in more than 30 companies that are contributing to the continued development of the food and agri industries across Asia. This investment was made via the Proterra Asia Food Strategy, which seeks to capitalise on the accelerating consumer demand that comes with growing urban populations and the emergence of a new generation of consumers looking for safe, high quality food products with a focus on health, nutrition, convenience, social impact and sustainability.
Tai Lin, Managing Partner, Proterra Asia, said: "We are incredibly excited about the potential impact of the ecoSPIRITS' system in improving business economics of the entire supply chain whilst reducing carbon emissions and packaging waste. At Proterra, we believe firmly in the business case for more sustainable food and beverage packaging, and look forward to partnering closely with Paul Gabie and his team as they continue to scale globally."
Sui Ling Cheah, ecoSPIRITS Executive Board Chair, said: "We are thrilled with the successful close of our Series A round, which not only validates ecoSPIRITS' impressive progress in building a comprehensive technology platform, but also marks a significant milestone in our journey to global scale. We are equally honoured to welcome blue-chip institutional shareholders to our journey such as Closed Loop Partners, Proterra Asia, Pavilion Capital and Convivialité Ventures. The future gets brighter when more resources are invested in circular economy innovation."
-Ends-
About Proterra Investment Partners Asia
Proterra Investment Partners is one of the leading alternative investment managers focused on investing in the global food and agriculture sectors. Proterra was ranked the #1 Global Private Equity Agri Investor by AUM by Global AgInvesting (2019). Proterra Asia has a track record of supporting entrepreneurs and management teams with more than capital, leveraging our unique skillset as experts across the entire food value chain, ranging from production to processing and distribution. For more information, visit: https://proterraasia.com/
About ecoSPIRITS
ecoSPIRITS is a circular economy technology company that has developed the world's first low carbon, low waste distribution technology for premium spirits and wine. Our patent-pending closed loop system nearly eliminates all packaging waste in the supply chain. By dramatically reducing packaging and transport, ecoSPIRITS provides both a powerful cost advantage and a transformative carbon footprint reduction. Founded in Singapore in 2018, the ecoSPIRITS technology is now available in more than 15 countries across Asia Pacific, Europe and the Americas. More than 1,500 leading bars, restaurants and hotels have adopted the technology, including Michelin-starred restaurants, World's 50 Best and Asia's 50 Best bars and iconic hotels. ecoSPIRITS is now rapidly building a global network of closed loop service, with coverage to grow to 25 countries worldwide by early 2023. Together with our brand partners, importers, distributors, wholesalers and venues, we are already making a difference. Each year, ecoSPIRITS and our partners are eliminating thousands of tons of single use glass waste, planting tens of thousands of trees, and inspiring others to change. For more information, please visit www.ecospirits.global
For all media queries, please contact:
Montfort Communications
Jack Roddan: T: +447825670695
Lesley Wang; T: +447752329851
E: Fidante@montfort.london